Pianist Lang Lang continues to inspire children globally
By BELINDA ROBINSON in New York | chinadaily.com.cn | Updated: 2022-10-05 04:35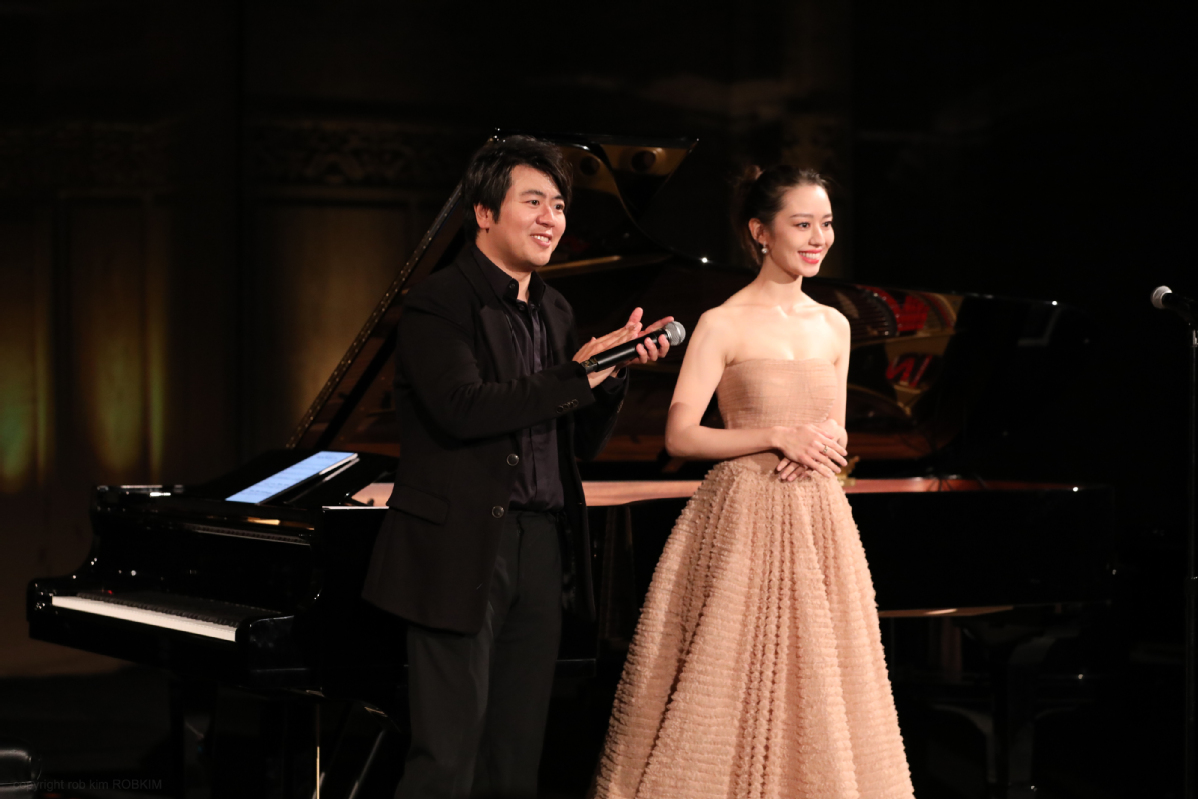 World-renowned classical pianist Lang Lang is continuing his quest to inspire children in China and abroad by teaching them how to follow their musical passions and develop key skills.
The Lang Lang International Music Foundation (LLIMF), founded in 2008, aims to educate, inspire and motivate the next generation of musicians. The foundation has several programs that benefit children worldwide and gives them "access to music education regardless of their background".
"We want to help new talents around the globe," Lang Lang told China Daily. "Many new talents, either from China, or, you know, from elsewhere. They love music, they have a great dream. But they need a little bit of help, a little bit of support. And we like to do that. We want to help them."
At a star-studded event in New York City on Sept 21, the foundation held a gala with friends, donors and board members to celebrate its achievements.
It also basked in the so-called "Lang Lang effect" — which is the artist's ability to inspire thousands of children to love music in China and beyond. It was the first time that the pianist had been able to hold the event in four years due to the coronavirus pandemic.
Lang Lang told China Daily: "It's been very challenging over the last four years, because of COVID. I'm very, very happy that we're finally able to meet everyone and to celebrate music, passion and laugh in the same room; it is truly a wonderful thing to start again."
The event, which raised $1.2 million for the foundation, also honored Shirley Young, the late founding director of the foundation, who died in December 2020, age 85.
Young, a trailblazer and prominent Chinese American, was born in Shanghai and moved to the Philippines as a child with her father, a diplomat. After her father was killed by Japan in World War II, she moved to the US with her mother and two sisters age 11.
She began working in marketing in New York City and would later become corporate vice-president at General Motors from 1988 to 1999. She was not only passionate about music but was committed to fostering relationships between China and the United States based on cultural exchanges.
Young, who also helped discover Lang Lang, was posthumously given the Lifetime Philanthropy Award 2022, presented by LLIMF patron Barbara Tober.
Tober told China Daily: "It's a beautiful night to celebrate a woman that I love very much. I was so sorry when she died. And my husband [Donald] died almost the same time. … It was very sad for me. I lost him. I lost her."
Tober explained that she supports the work of LLIMF because "it teaches young children music, which is a discipline. We have too many drugs and too much everything going wrong. If you are studying the piano, there is no room for any deviation."
Young's son, David Hsieh, told China Daily: "I miss my mother. But, you know, I'm very honored and very proud that Lang Lang and the foundation are honoring my mother.
"My mom met Lang Lang when he was 10 years old. She was at a recital, and he almost didn't get a chance to play, and it was my mom who said, 'Let him play,' as they were running late," he said. "And then of course, you know, he was amazing, and you know that relationship was born. She's supported Lang Lang his entire career."
The night featured a performance by Wyclef Jean, an international singing star and friend of Lang Lang. The pair shared the stage and gave an impromptu performance blending their talents.
Along with performances by young talents who have thrived as part of the foundation, others who graced the stage were actor, singer and music producer Mauro Castillo.
Lang Lang and his wife, Gina Alice, also performed a duet for the audience. Alice, originally from Germany and born to Korean parents, began playing piano at age 4. The highly decorated musician is a recording artist for Universal Music.
Another honor on the night was the first ''Keys of Inspiration Music Teacher of the Year Award", which went to Davis Cahill from Jefferson Elementary School in North Carolina.
Lang Lang, who is well known in his native China, performed for billions of people at the 2008 Beijing Olympic Opening Ceremony. In 2011, he was awarded a prestigious prize by the Ministry of Culture of the People's Republic of China.
Internationally, he is a familiar face to music lovers after performing at the Grammy Awards with Metallica, Pharrell Williams and Herbie Hancock.
In 2013, he was made a messenger of peace focusing on global education by the secretary-general of the United Nations.
He also has received honorary doctorates from the Royal College of Music, the Manhattan School of Music, and New York University, along with honors from Germany and France.
The pianist, educator and philanthropist is an ambassador for the arts. His foundation has programs in more than 50 cities from Shanghai to London.
The programs include: Keys of Inspiration, 101 Pianists, Young Scholars and Play it Forward.
Keys of Inspiration is used in many public schools as part of the curriculum where children are taught keyboard from Grades 2 to 5 twice a week.
In China, the program's piano labs are in 104 schools in 24 provinces, and almost 110,000 students have received music education through it.
LLIMF is working with the East China Normal University in Shanghai on a project under the Keys of Inspiration program. It looks at ways that piano can ease symptoms of autism spectrum disorder in children. Additionally, a team from Fudan University in Shanghai is carrying out research on how music positively impacts children in the classroom.
The Young Scholars program supports extraordinary talent from around the world, allowing participants to be mentored, tutored and hone their performances.
The Play It Forward program helps students perform in their local communities in concerts. There have been 100,000 virtual concerts and more than 2 million views on YouTube.
The 101 Pianists program brings together 100 young piano players from one city to perform with Lang Lang.
The philanthropic drives by the foundation have resulted in 4,500 pianos being donated and 182,000 students benefiting from the program in 192 schools worldwide.
Lang Lang is in the process of getting his Keys of Inspiration program in schools in Europe. He has already opened some in the UK.
He is also clear about his foundation's mission for the future: "We'd like to help more children from China and from the world and we also want to give them more opportunities like concerts. We want to give them more of a chance to shine on stage."