Kiteboarders take flight
Share - WeChat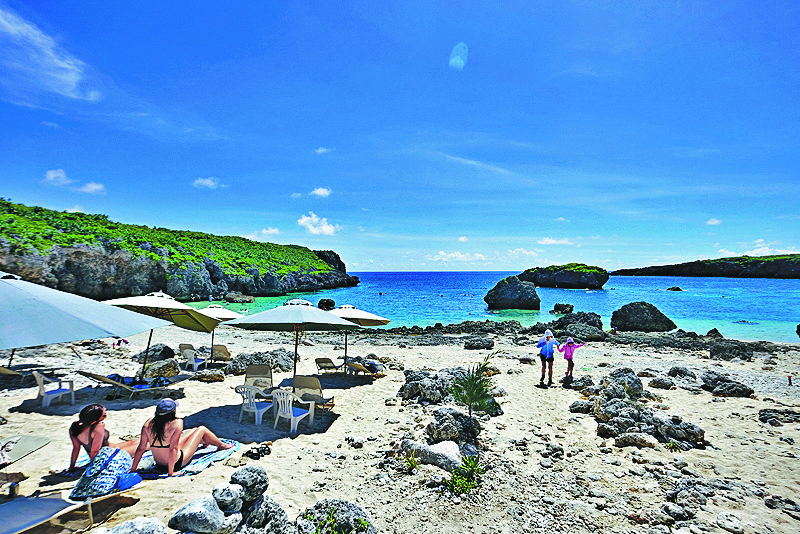 Amateurs and experts flock to the shores of Okinawa to check out fledgling adrenaline sport
Kenji Tamaki, who chases whatever wave or wind that keeps his spirit aloft, knows a thing or two about kiteboarding in Okinawa, which is why, every year, he goes to Miyakojima, a far west island of Japan, to rest and recharge away from his busy life in Tokyo.
"Picture this: 5 or 6 meters above the water, hanging by a thread, dipping and twisting in the wind like airborne dolphins. It is more fun than any other kind of surfing or snowboarding or anything," said Tamaki, adding that the blindingly white sand beaches and crystal clear turquoise waters of Miyakojima suits the high-impact sport that uses wind power with a large kite to pull a rider across the water.
Although kiteboarding, also known as kitesurfing, is still regarded as a sport in its infancy, having had its first international association in 2008 and will only make its Olympic debut in the 2024 Olympic Games in Paris, the use of the kite and the skill of surfing could date back thousands of years.
It is said that fishermen in Peru already knew how to surf back to shore using a watercraft made of reeds about three to five thousand years ago and the invention of kites was mostly attributed to Han Xin, a Chinese military general and politician who served Liu Bang, the first emperor of the Han Dynasty (206 BC-220 AD), during the Chu-Han Contention and who contributed greatly to the founding of the Han Dynasty.
The earliest stories of kite flying are as follows: During a battle one night around two millenniums ago, General Han sent a square-shaped assemblage of bamboo and cloth into the air above Chu enemy territory to measure how much ground his men would need to tunnel through in order to breach their adversaries' defense line.