Surfing on land gains ground among youth
By LIU YUKUN | CHINA DAILY | Updated: 2022-10-01 07:51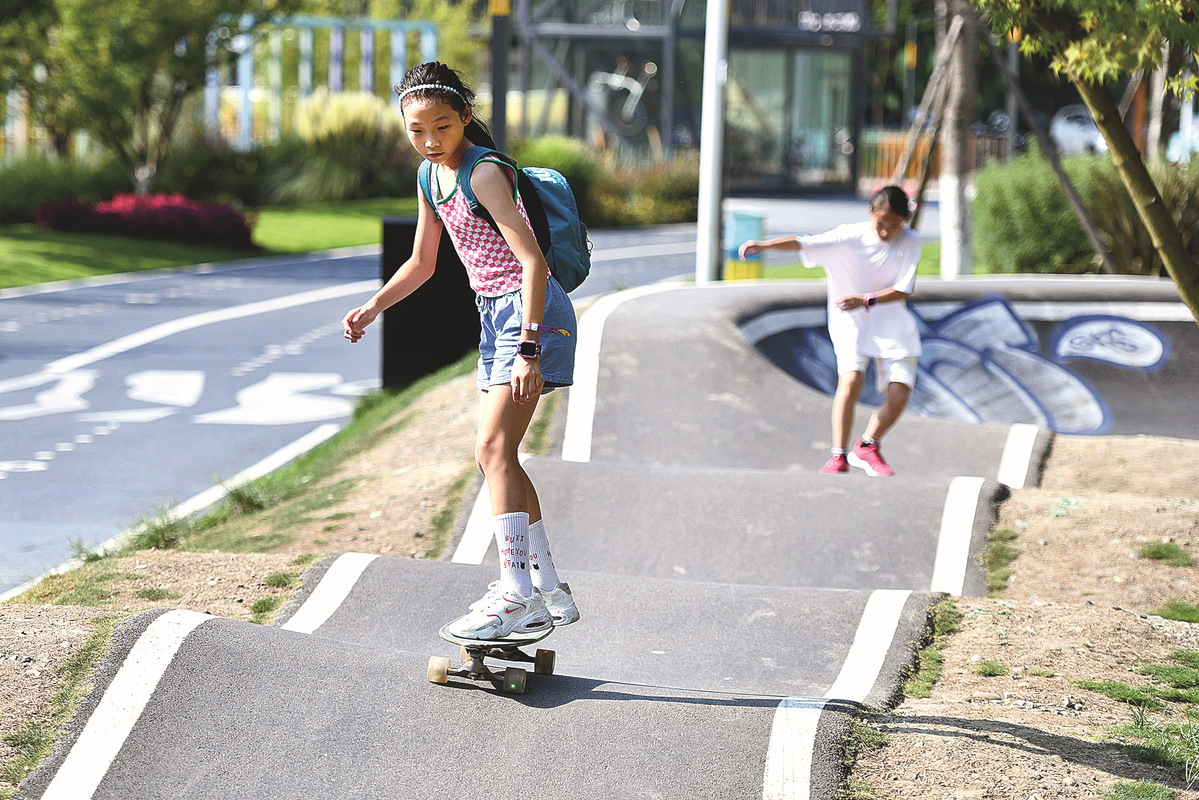 Sportswear players flushing into the expanding market as surfskating makes waves among the urban hip
If you see a group of people bend their knees, hold their arms out, and swing their bodies around ... don't panic, it's not a zombie apocalypse, just a few surfskaters.
A surfskate board, which originated in the United States, is a type of skateboard that uses a specially-designed front truck to give riders the feeling of surfing on land. As riders shift weight between the heel side and topside, the special front truck turns the board sharply and helps generate momentum, pushing riders forward and changing directions.
This summer, the sport has gained favor among Chinese consumers and is soaring in popularity among all ages, spurring a billion-dollar market.
On lifestyle-sharing platform Xiaohongshu, searches related to surfskating rose 420 percent year-on-year in the first half. The surge in searches started in February. As of August, surfskate-related posts surpassed 60,000. Trending topics include tutorials and board recommendations.
On the short-video platform Douyin, posts hashtagged "surfskate" had over 150 million views by August. A one-minute video post with top viewership had over 189,000 likes. The sport also became a trendy topic on Weibo and Kuaishou.
"You can see an increasing number of people practicing surfskating at almost all ages in a wide space inside the community I live in. It used to be a place for the elderly to gather and dance to music," said Beijing resident Ma Yuan.
Once a surfing fan, Ma got caught up in an inland city during the COVID-19 resurgence and started surfskating a few months ago.
"I felt cooped up because the resurgence of COVID-19 has restricted travel and made it difficult to visit gyms and parks. I knew about surfskating from social media and decided to give it a try. It was easier than I thought. I learned for three days and afterward, I could manage a few simple moves."
"In addition, surfskating requires a lot less equipment compared with many other sports. I can start skating at a random place and all I need is a board," she said.
Ma fell in love with the sport immediately and introduced it to family and friends. "It helps me lose weight and reduce work and life pressure. Although I'm approaching 35, standing on the board makes me feel young again."
Ma isn't the only one that has such feelings. A recent report by a research institute under media agency 36kr showed that the surfskating has become the second most popular skateboarding sport among young people, lagging behind the double kicktail.