Desert control efforts shared with Arab states
Share - WeChat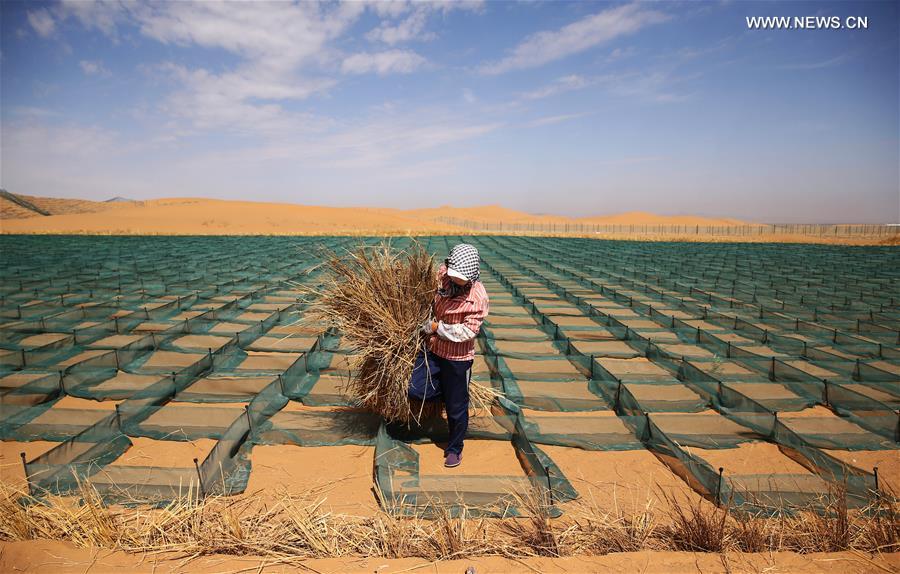 Twenty-six people from seven Arab countries took part in an online technical training course with experts from the Ningxia Hui autonomous region recently, learning how to prevent the desertification of land, avoid the degradation of vegetation and stop the deterioration of grasslands.
Organized by the research institute of forestry and grassland ecology at the Ningxia Academy of Agricultural and Forestry Sciences, the 20-day course began on Sept 9. People from Libya, Egypt, Jordan, Iraq, Mauritania, Tunisia and Oman attended.
Researchers from the Ningxia institute shared their experiences and methods for preventing and controlling desertification in the region. They touched on the restoration and reconstruction of vegetation in arid, sandy areas; water retention in hilly loess areas; breeding and cultivation of shrubs on sandy land; and water-saving technology and its application in agriculture.
Through an online platform, attendees visited bases that demonstrated the achievements of desertification prevention in Ningxia. They learned how people in Lingwu city of Ningxia deal with sand and transform a desert into an oasis.
They also learned how local people explored ways to control sand to build a section of railway.
Located in the northwestern part of China, the Ningxia Hui autonomous region has explored several methods to prevent desertification that have proved effective. Its technologies, programs and models on desertification prevention have been recognized around the world.
In the Baijitan national ecological reserve in Lingwu, a section of Mu Us Desert has been turned into an oasis.
In the reserve, sown hay is shaped into a checkered field pattern resembling a chessboard, fixing the sand in place and allowing fresh vegetation to sprout.
Local people also take advantage of the rainy season to plant grass seeds and shrubs in the reserve.
If rainfall at the reserve reaches 160 millimeters, 75 percent of the grasses and shrubs they plant are able to survive that year.
But in the past, it was difficult for local people to grow even an orchard because of the inclement weather and harsh environmental conditions, with constant winds and blowing sand severely affecting plant growth.
Today, the oasis has become an important protective barrier for the ecological system in northwestern China, thanks to generations of dedicated sand control efforts, which provide good case studies for the prevention of desertification.
The training course was held to provide a platform to share and exchange experiences for desertification prevention between China and Arab countries, and explore ways to help Arab countries tackle the challenges of desertification.
The institute has held 12 training courses like this one, with more than 300 people from Arab countries attending. It is the second time through the course for Alkhashmi Muftah, an official from the agricultural department of Libya.
Muftah hopes to learn practical methods to prevent desertification and will apply what he learns to the situation in his own country.