Climate hope from an unexpected quarter
Share - WeChat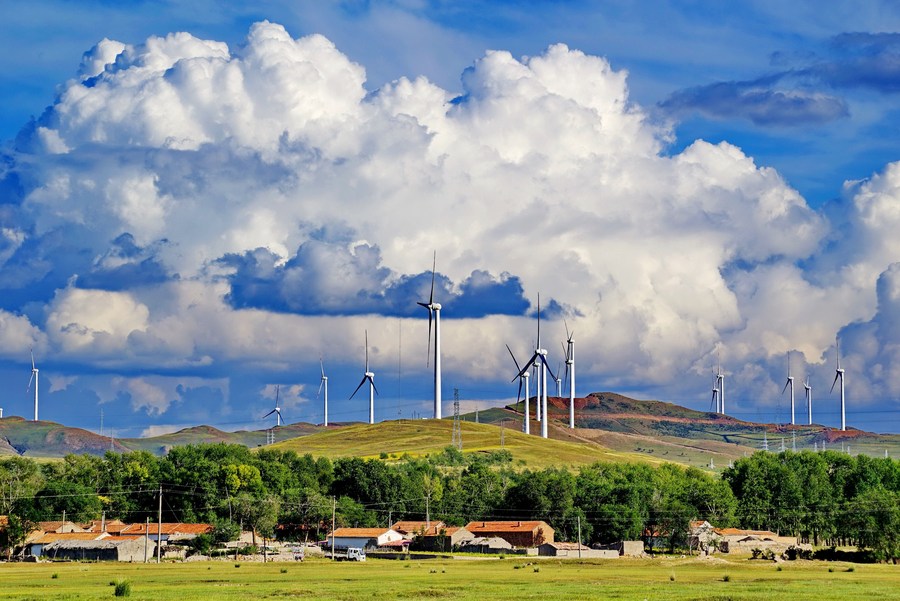 Record-breaking rainfall and the worst floods in Pakistan have killed more than 1,500 people, including over 520 children. About 3.4 million children need immediate lifesaving support. The country's economy, which was struggling to emerge from the devastating effects of the COVID-19 pandemic and global economic slowdown, has received another damaging blow, creating shortages of food and other essentials. And surveys show, children, and the elderly, are the worst hit.
Pakistan's tragedy is all the more tragic because it has contributed little to global warming.
An Oxfam study says 19 million people face starvation in climate hotspots in Somalia, Haiti, Djibouti, Kenya, Niger, Afghanistan, Guatemala, Madagascar, Burkina Faso and Zimbabwe.
Again these countries have contributed very little to climate change.
The two-month-long heat wave in China, during which temperatures rose above 40 degrees Celsius in many places, dried up many rivers and reduced the country's hydropower generating capacity, prompting it to use more coal to produce power to run the economy. Such extreme weather events in the world's second-largest economy could compromise food security and disrupt global supply chains.
The bigger problem is that such extreme weather events have become more frequent and affect the most vulnerable communities that have little to do with global warming. In other words, the innocent are made to pay with their lives and properties for the climate crimes committed by large energy-guzzling, emission-spewing economies and companies.
Yet there are countries like India, which vow at international gatherings to increase the percentage of clean energy in their total power mix and protect their fast-shrinking green cover, but order the cutting down of forests, including protected forests, in the name of development.
It's not that India does not suffer the damaging effects of climate change. While crops on hundreds of thousands of hectares have withered due to extreme heat and dry weather this year, many parts of the country have been devastated by floods.
Perhaps that's what prompted UN Secretary-General Antonio Guterres to say, while addressing the 77th annual session of the United Nations General Assembly on Tuesday: "A cost-of-living crisis is raging. Trust is crumbling. Inequalities are exploding. Our planet is burning. People are hurting … We have a duty to act. And yet we are gridlocked in colossal global dysfunction."
As a solution, Guterres urged countries to impose windfall taxes on fossil fuel companies and divert the money to vulnerable countries suffering worsening losses from the climate crisis.
"Today, I am calling on all developed economies to tax the windfall profits of fossil fuel companies," Guterres said. "Those funds should be redirected in two ways — to countries suffering loss and damage caused by the climate crisis and to people struggling with rising food and energy prices."
Guterres' appeal, as the UN secretary-general, was his most urgent and bleakest on the state of the planet, and the will of governments to change course. "We have a duty to act and yet we are gridlocked in colossal global dysfunction. The international community is not ready or willing to tackle the big dramatic challenges of our age."
Not only the international community, big business, too, which makes the most profits from highly polluting industries such as oil and gas, automobiles and mining — as well as smart industries such as information and communications technology and electronics — are unwilling to fulfill their promise of fighting climate change as part of their corporate social responsibility.
Amid all this comes a glimpse of hope. About half a century after founding outdoor apparel-maker Patagonia, Yvon Chouinard has given the company away to help fight climate change and protect undeveloped land around the world.
Instead of selling the company or taking it public, Chouinard, his wife and two adult children have transferred their ownership of Patagonia, valued at about $3 billion, to a specially formed trust and a nonprofit organization to protect the company's independence and ensure that all of its profits, of about $100 million a year, are used to combat climate change and protect undeveloped land across the planet.
The pioneering but eccentric rock climber in Yosemite Valley, California, who many say became a reluctant billionaire, given his unconventional spin on capitalism, still wears old clothes, drives a beat-up Subaru and spends his time between modest homes in Ventura in California and Jackson in Mississippi. And it will come as a surprise to many that even in these digital-driven times, Chouinard does not own a computer or a smartphone.
That Chouinard, 83, said, "We are going to give away the maximum amount of money to people who are actively working on saving this planet," raises hope that perhaps the world can still be saved from the catastrophic consequences of climate change.
But more Chouinards are needed to combat climate change. Are there others like Chouinard out there in the world of big business? I doubt it.
The author is a senior editor with China Daily.
Most Viewed in 24 Hours
China Views